Ten items of interest from Geekville...
1) A few weeks back, the Best Week Ever blog (yes, I read celebrity blogs. So sue me.) ran a couple of posts about the hottest nerd boys. I think they pretty much covered all my bases...Jon Stewart? Stephen Colbert? Hugh Laurie? Ewan MacGregor? David Tennant? Yeah, I'd say the list covered pretty much everyone I'd want to be on it. I was particularly amused by the inclusion of Ira Glass. Hee.
2) I recently discovered that we missed out on Weird Al -- he was here in Connecticut on his Straight Outta Lynwood tour at the end of May. Bah.
3) I'm glad to hear that Battlestar Galactica will be ending after the next season. I hope that with a definite end in sight, the writers will be more inclined to tighten things up than they were this past season. After the finale of this past season, I can't wait to see how they pick it up again! And yes, I'm still bitter about having to wait till January for the new season. I know about the "movie" in November, but that doesn't count.
4) Jim has decided that his fun project for the summer, once he's out of his cast, involves making water rockets. Don't tell him I told you, but I think that that sounds sort of fun. My official stance, however, will remain a Rolling of the Eyes whenever he mentions it. :-)
5) Speaking of Jim and his cast, he and I are both getting a kick out of the reaction he gets when he wears this shirt in public.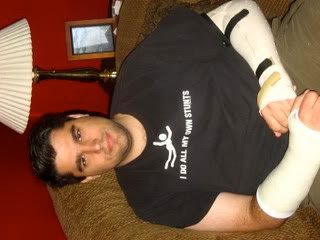 Yes, that's the same "I DO ALL MY OWN STUNTS" t-shirt as seen on Adam on Mythbusters. But I bought Jim that shirt before Adam started wearing his on TV. :-) (I took this picture over a week ago...Jim is no longer wearing that splint on his left arm. It's just too hot to do so now, and he seems to be fine without it. He's healing very quickly. Yay!)
6) We went to see Pirates of the Caribbean the other night, and there was a trailer for Transformers. Now, I didn't watch Transformers back in the 80s (my Inner Geek had not yet been released -- we have Jim to thank/blame for that -- and besides I was far more interested in He-Man and She-Ra) but the trailer makes the movie look appealing.
7) I'm back on another nonfiction kick. Which is a problem, because...
8) ...I realized that if I am going to re-read all of the Harry Potter books before the release of the last one, I'd better get cracking!
9) In a bit of library geekery, if I can find the time I would really like to reclassify our entire religion section. (The 200s -- the Dewey Decimal Classification home for religion -- were redone a few years back to make it less Christianity-centric (basically, it was "Christianity" and "Other") and it bugs me that our library still reflects the old classification.)
10) A bunch of my friends have recently gotten their invites for Ravelry, and I'm jealous!