Superbowl Sunday is always a good day. Mind you, I hate, loathe, and despise football -- but as many of you probably know, it's a big day for LYS sales. ;-) For the last two years, I've gone with my friend Stephanie to her LYS sale, but this year that didn't work out because we had a family commitment today (more on that in a bit) and so there was no way I could manage the 2-hour drive to Steph's house, spend time with her, hit the sale, and make it back here by 2pm! My LYS was having a sale of its own, though. It just wasn't the same without Steph, but I still managed to get myself some goodies (at 41% off!).
Gandalf insisted on helping me photograph. Clockwise from top left, that's four skeins of Brown Sheep Cotton Fleece for a Green Gable sweater; seven skeins of GGH Soft Kid for some kind of a wrap sweater, I think; four skeins of Elsebeth Lavold Silky Wool just because I liked the color; and eight more skeins of Silky Wool, in a different color, so I no longer have to choose between the two patterns in Viking Knits that I have been vacillating between (I'd bought some Silky Wool a few months back, but couldn't decide which pattern to knit!).
Anyway. I couldn't go to see Steph this weekend because today was my MIL's birthday and we had a little party for her at GrandMIL's house. I even finished her birthday present on time!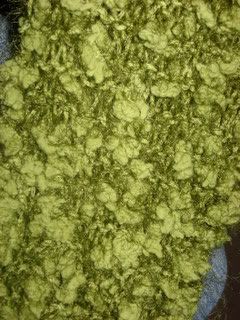 Scarves are really, really boring to photograph. This is knitted from two skeins of Berrocco Softy, and I just did garter stitch -- 18 stitches wide. It wound up being the perfect length, in my opinion, and, true to the yarn's name, it is wonderfully soft. I think that MIL liked it!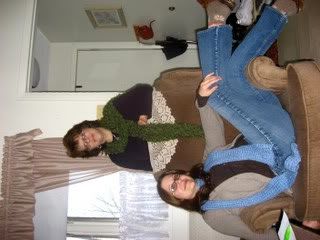 My SIL got a scarf, too -- her birthday isn't until the end of March, but if I waited till then to give it to her, it would have had to collect dust until next fall. And it's supposed to be subzero all week, so it would have been a shame to keep it from her!
And as for the rest of the day...well, like I said, I hate, loathe, and despise football. So instead we watched the Puppy Bowl while I knitted...
...and then we played poker.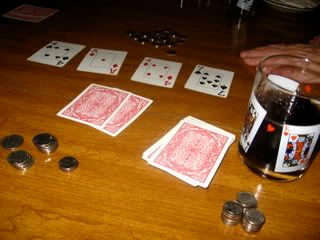 It's all small-stakes in our family -- we play with nickels and dimes -- but still, I managed to clean up today. I quadrupled the dollar that I started with, even after repaying Jim the dollar he lent me to buy in. ;-) The thing is, I don't think I'm actually THAT good at poker -- I think I was just getting lucky. (I do bluff pretty well, though, or maybe Jim and his mom and grandma are just gullible. ;-)) Still, though, I did well enough that I'd like to play more and see if the luck continues.
And now -- madly trying to finish the second sock for my grandmother. I finished the first one, but I fear I may have jinxed myself by saying that I'd have no problem finishing the second one in time. I neglected to take activities other than knitting into account! We'll see. Worst case scenario, I give her one sock on Thursday and the second this weekend sometime. ;-)
Gratuitous Cat Picture
Maggie is ON A RAMPAGE.....box.