Yesterday I went with Tamara, Knitcole, and Stitchadara to the Massachusetts Sheep and Woolcraft Fair. It may be sacrilegious to say this, but...I think I preferred it to Rhinebeck! It's a small fair, maybe a quarter of the size of Rhinebeck, so it's not nearly as overwhelming. And it's also not nearly as crowded, so we all felt like we really got to look at everything without being jostled or squished, and it was easy to remember what things we wanted to go back to and look at again later in the day. So while it doesn't have the volume or variety of Rhinebeck, in many ways it was a more pleasant experience. Not that this will keep me from going to Rhinebeck again, of course. ;-)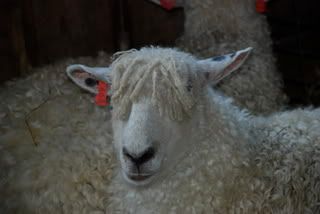 I love getting to see all the animals at fairs -- whenever I go to an agricultural fair of any type it's always my favorite part of the day. Maybe I was a farmer in my past life. Yesterday it was very difficult to not go home with a baby angora bunny in my pocket, although I have to admit that these tiny little lambies were pretty irresistible too.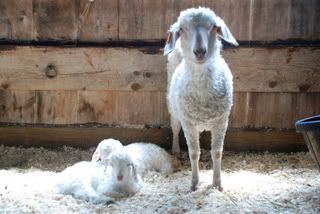 There were so many booths full of lovely things at the fair, but what did us all in was Spunky Eclectic. If I had the money, I would have bought one of everything, and I'm sure between the four of us we could very happily have bought the place out. I have never seen such amazing hand-dyed yarn. Here are the girls with their purchases...
...and here's what I came home with!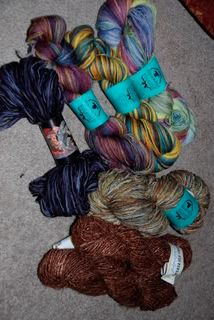 That's three skeins of sockweight yarn, one skein of laceweight 100% cashmere, one skein of laceweight Tussah silk, and two skeins of banana silk for a bag. Would you just look at these colors?! How on earth will I decide what to knit with first?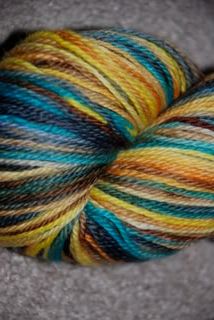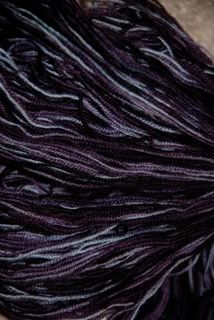 And speaking of pretty yarn, the other day Tamara surprised me with a visit at the library. A few weeks ago she had a contest, and I won by leaving the 1000th comment (!) on her blog. And then she posted this lovely collage with gorgeous Spring Trees yarn that she dyed -- little did I know that that yarn was my prize! I was so excited when she gave it to me!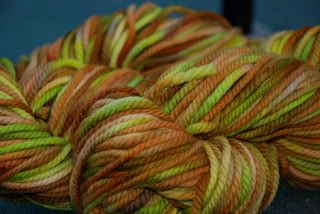 Unrelated to yarn...
Thank you for all your nice comments and emails asking about Jim and wishing him well. He's doing okay -- rather uncomfortable in the heat and humidity we've had these past few days, but he's hanging in there. He's been sleeping an awful lot -- partially just because he's bored because he still can't really do much of anything, but I'm hoping that it's partially because his body is using all of that downtime to heal! He's taken a lot of catnaps on the couch -- many of them accompanied by a certain grey cat.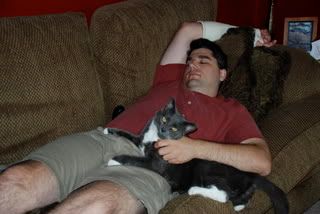 We are both still just so thankful that he's only got one cast. He can't do much with his left arm, but at least it's out and partially usable!