Stick a fork in it...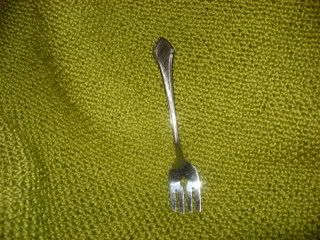 ...it's done!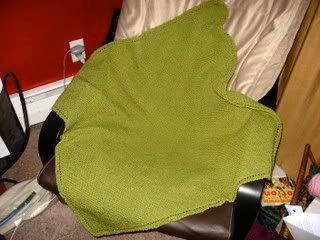 Pattern: Diagonal knit baby blanket with eyelet edging
Yarn: Ten skeins of Mission Falls 1824 Cotton in "Wintergreen"
Needles: size 6 Addi Turbo, 24"
Time: March 19 - April 13, 2007
Dimensions: about 31" square, unblocked
Ah. It is DONE and I am pleased. :-) I really ran out of steam towards the end there -- all garter stitch got to be pretty mind-numbing after a while!
That said, in my humble opinion this is an example of a good match between yarn and pattern. Mission Falls 1824 Cotton is really nubby and textured, so it makes the simple garter-stitch pattern look much more interesting than it might in a smoother yarn. A couple of people, upon seeing this blanket in real life, asked if it was seed stitch -- the diagonal knit and the yarn really do work well together.
I've had this yarn in my stash for quite some time. About two years ago, I knitted this exact same blanket for my friend Trina's new baby, and I fell in love with the yarn, only to discover very soon after that it was being discontinued. So I did that stasher thing and ordered several lots of it on eBay. ;-) Now, of course, they make it again, so I don't feel compelled to stash this particular lot of it anymore. So this was a stashbuster project on top of everything else, which makes me happy. :-)
The best news? I have more than a week before the shower -- I actually finished something that was not under the wire! Yay! This may well be a first. ;-) I do need to wash the blanket, not just for blocking purposes but also in an effort to remove cat dander (the recipient is allergic) -- I did keep the cats away from this while I was knitting but of course in my house there's no way to avoid fur/dander altogether.
I wanted to knit a teddy bear for the shower too, but the book with the pattern I wanted to use took its sweet time getting to me -- I only got my hands on it earlier this week, despite having ordered it through interlibrary loan over a month ago! So we'll see how far I get on the bear (although it, too, is in garter stitch, and I am TIRED of garter stitch!), but if I don't finish it by next weekend (which is likely) I'll just save it for the new baby either as an arrival gift or for Christmas this year.
I think today we're taking a spur-of-the-moment trip to Harney's for some tea. Yay!