You know how I said something the other day about it being sixty degrees? Yeah.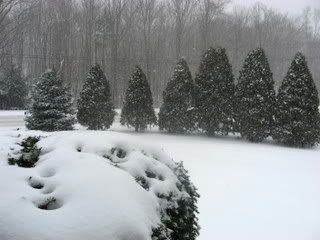 That was the view from the window in my craft room this afternoon. I went to work as usual this morning, only to leave two and a half hours later when it became apparent that it was really snowing. It was, to say the least, an interesting drive home -- believe me when I tell you that I was very, very glad to pull into my driveway! This storm was preceded by the usual hype, but in this case I think it actually lived up to it -- it really came down hard and fast once it decided to start falling. Now it's sleeting quite heavily -- this will be a lot of fun to clean up come tomorrow!
So, needless to say, what with the early start to the weekend, I spend the afternoon knitting.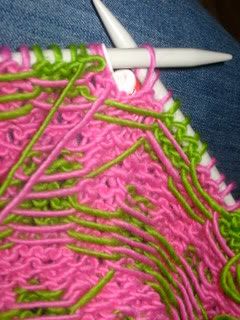 The prospect of a deadline was staring me in the face -- I need to have the samples knitted for my class by March 26, when we're starting registration -- so I decided to start the felted bag. It's going quickly -- I'm through 3.5 of the 5 pattern repeats -- and ideally I'd like to felt it this weekend.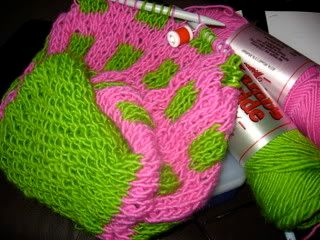 Aren't the colors delightfully and obnoxiously bright? ;-) They remind me of the cover of the book Prep. The bottom of the bag is done in a slip-stitch pattern, and I love the texture it creates -- it almost seems a shame to felt it!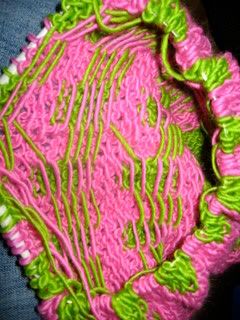 One thing I've learned in my knitting is that sometimes I just can't think too much beforehand -- I'm not always good at being able to picture things based on how they're described in a book and there comes a point when I have to stop trying to figure out what the pattern is saying, and just do it. I didn't quite get, from reading the pattern, how the slip stitches would work, but I just did what the pattern said and, miraculously, it all worked out. Amazing, that. Not difficult at all. I will say, though, as a tip for anyone doing colorwork with floats -- if you think your floats are loose enough, make them looser. I am knitting this on size 13 needles and I'm knitting very loosely, but I'm still afraid that my floats are going to make the body of the bag pucker a little. I don't think I could possibly make them any looser, though. Hopefully it will felt okay.
Gratuitous Cat Picture
Look who forgot to put his tongue away!