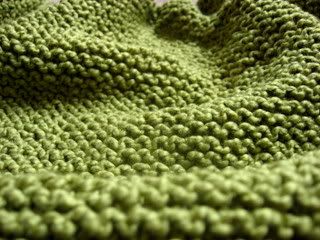 There's only so much you can say about an ocean of garter stitch.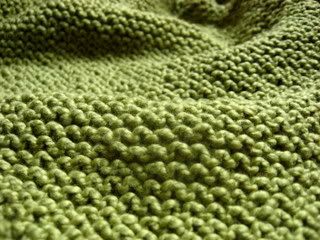 The blanket is growing larger, more slowly now as each row is longer than the last and I am nearing the widest part. At times I get sort of frustrated by that -- it's one of those situations where I knit and knit and knit and the whole thing only grows by an inch -- but I keep reminding myself that once I hit the halfway point, each row will get shorter and my progress, measured in inches, will get faster and faster. This is going MUCH more quickly than the last baby blanket I knit, too -- I made that one only a short time after I started knitting and while I wasn't blogging at the time and consequently don't know how long it took me from start to finish, I DO know that it was a relatively major undertaking, time-wise. I knit a lot faster now!
It's Educator Discount Week at Borders, and last night we went and dropped a chunk of change. Not that we need much incentive to visit the bookstore anyway, but 25% off everything is irresistible. Now I need to actually read some of the books I've managed to accumulate over the last few weeks -- we've had more bookstore trips than usual lately (it's a regular weekend-night excursion for us), plus I've bought some used books from the library. We need more bookshelves -- which means we need a bigger house! ;-) That's not in the cards for a while yet, though, so in the meantime we'll just have to double- and triple-stack even more than we already do.
And what did I get? There were some hardcovers on the 3-for-2 table, so I picked up three books that have been on my wishlist: Thunderstruck by Erik Larson, Mayflower by Nathaniel Philbrick, and The Omnivore's Dilemma by Michael Pollan. I've read a few novels lately (my coworker Ann, who knows how much I like nonfiction, reacted with amazement when she saw me returning a couple of library books recently. "But those are fiction!") so it's time to switch back for a while, I think.
I also picked up Favorite Socks, the new book from Interweave Press. I've ogled it a couple of times at the bookstore since it came out, but hadn't purchased it yet. I couldn't hold back anymore, though -- I don't think there is a single pattern in the book that I don't like. I might not actually knit all of them, but they're pretty to look at. I feel like I'm ready to branch into patterned socks, having only done stockinette and variations on ribbing up till now, and as we move into the warmer months knitting small things like socks starts to sound extra-appealing, so... I also wanted No Sheep for You -- I flipped through Tamara's copy the other day and there are SO many nice patterns in it, but I decided to hold off on that one for a bit. No need to buy everything all at once!
And on a completely random note: Jim bought me flowers, oh, three weeks ago? The roses and the other flowers have long since dried up and had to be discarded, but these daisy-type things (I am SO bad with flower names) are still going strong -- a little wilty, perhaps, but not too badly. I love flowers, especially ones that unexpectedly last a long time.