Today is my SIL's birthday. I wholeheartedly reject the notion that we can no longer have fun cakes once we become adults. I mean, really. Why should kids get to have all the fun?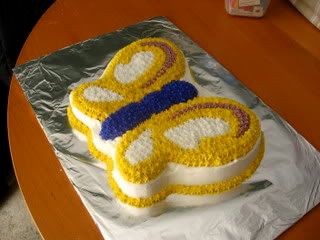 I really can do things that are fancier than stars-on-a-shaped-cake, honest. But there's something fun and actually sort of satisfying about doing these! I need to make a cake with roses sometime soon, though, before I completely forget how to do it. That's another thing on my resolution list for this year, along with knitting more gifts: Decorate more cakes. Don't want the skills to get rusty! If they ever schedule Level II cake decorating for a night that I can actually go, I'd like to take it, too.
I also finished my obnoxious pinkandgreen bag!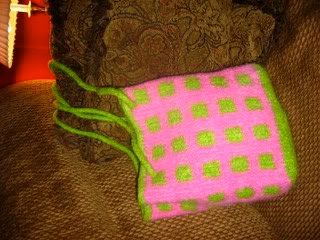 Pattern: Little Slip of a Thing, from Knitty
Yarn: Two skeins of Lamb's Pride worsted: one Limeade, one RPM Pink
Needles: size 13, 24" circular
Time: March 16-21 for the main part of the bag; the i-cord and felting took me till March 25.
Modifications: Several; see below.
First of all, I absolutely promise that this bag is NOT eyeball-breaking in person. Honest! I just canNOT get good color when I photograph this, no matter what I try, so I'm going to have to wait for a nice bright sunny day and try taking a picture in natural light.
This was a fun, and fast, knit. I ignored some things about the pattern, though. First of all, it calls for two different needle sizes (13 and 15), presumably to make up for tension differences in the sections with floats. I couldn't be bothered, and knitted the whole thing on size 13s with no ill effects. My colorwork puckered a tiny bit before felting, but is perfectly smooth now. I also skipped the bit about making the ridge along the bottom of the bag -- it was too fiddly for me, and I'd originally intended to just whipstitch a ridge in before felting, but wound up not bothering with that either. I also didn't bother with the grommets -- just threaded the i-cord through the body.

I learned two new things in this project -- slip-stitch colorwork, and i-cord bindoff.
This felted VERY well -- just one trip through the washing machine as part of a load of towels, and it was done! It's a nice, thick fabric and even stands up on its own. I do think I'm going to put a piece of plastic canvas in the bottom of the bag to keep it flat when there are things in the bag, but beyond that I don't think it needs any lining (though I may put some in anyway, if I see some cute fabric somewhere).
Now I need to decide what colors to use for Version 2 -- I need to knit one along with my class when I'm teaching!