Given that it was a week ago now, I should really write about last weekend! I must be coming up on the statute of limitations for weekend reports...
As previously hinted, I went to North Carolina to a knitting retreat organized and run by the Baskets of Yarn shop in Charlotte. The retreat was in Boone, way up in the mountains, almost in Tennessee. I flew down to Raleigh-Durham on Thursday and met up with my friend Joan, who lives in the area. She showed me around her neck of the woods, and we had a yummy dinner (and beer!) for dinner, and hit the sack early for our trip out to the retreat.
Friday we were showered and dressed and on the road by 8am. The drive to Boone took us about three hours, including stops for gas and a snack, and I enjoyed seeing the scenery -- this was my first time in North Carolina, save for passing through on I-95 on trips to Points South. (I actually took these pictures on the way back from Boone, but no matter -- they still illustrate my point!) When we lived in Virginia we used to love visiting Shenandoah National Park, and it was nice to see the Blue Ridge again. They're just beautiful. I have a sudden urge to plan a road trip down Skyline Drive and the Blue Ridge Parkway...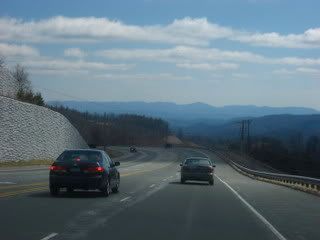 We arrived at the Broyhill Inn, site of the retreat, where there were already knitters everywhere (we had a choice of attending for three or four days and Joan and I had opted for the three-day retreat for reasons involving number of vacation days we had available -- though we decided within about a half-hour of arriving that we will make the retreat an annual event, and next year we will definitely go for the full time!). We had lunch at the buffet and then headed down to our first class at 2pm.
Joan and I took two classes, each of which met for three hours a day, two days in a row. Our first one was a Noni felted bag -- the Night Garden -- and the second was mittens and gloves. The classes were great, and we both really enjoyed not only the projects, but also getting to meet knitters from different parts of the country. (There were even other librarians there!)
Some haphazard commentary on the weekend, presented via photographs: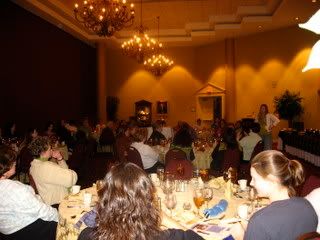 This was dinner on Saturday night...how can you go wrong with an entire room full of knitters? There were about 55 of us there, I think.
And speaking of dinner, let me just say that the food was SO good there. Usually at conference centers, the food is eh at best, but that was definitely not the case here! I ate waaaaay too much over the course of the weekend.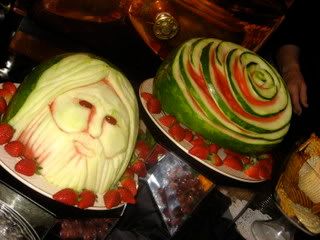 I mean, would you look at that? How could you go wrong with a place that had melon carvings???
There was also some interesting decor....check out this coffeetable! (That's Joan in the background.) I want.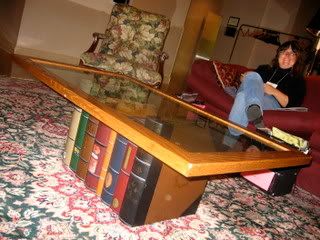 We had a little camp-like "awards ceremony" on Saturday night, and I managed to win a door prize (a Noni bag pattern, autographed by the designer!) and the "High Five" award for completing my first mitten quickly. ;-) (You can't read it, but this is my award -- a $10 gift certificate to the store! The shop had a suite in the hotel and they'd brought along a little mini-store, so in between classes we could all fondle and purchase to our heart's content. And purchase I did, although I forgot tpo photograph my acquisitions...)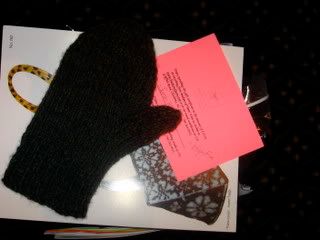 On Sunday morning, we awoke to snow!
Would you believe that it was actually colder in Boone, NC than it was here at home while I was away? (Of course, then I came home to wind chills of -30F, but that's another story.) The cold weather, though, meant that we got to have the ambience of a fire in the dining room.
And here are the two of us, in our last class on Sunday morning, showing off our nearly-completed projects.
I am so glad my hands held up for the weekend. We knitted almost literally nonstop over the course of the weekend (if I wasn't knitting, then I was either eating, enjoying a yoga class or a chair massage (included in the cost of the weekend!), or sleeping) and I was afraid that come Sunday I wouldn't be able to knit anymore! I managed, though when I woke up at home on Tuesday I realized that my wrists were a little sore. I don't have any carpal tunnel/RSI issues and I'd like to keep it that way, so I've laid low on the knitting since my return. But look at all I managed to finish over the course of the weekend -- both of my class projects, and a sock that was only a couple of inches long when I left my house on Thursday morning. (The mittens are knitted from Berroco Keltic; the Noni bag, which I hope to felt tomorrow, is Cascade 220; and the sock is Trekking XXL.)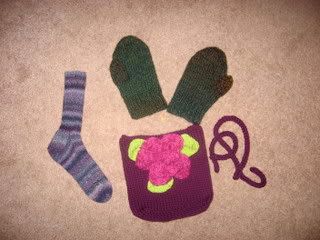 All in all, it was just a fabulous, fabulous weekend, and Joan and I are both looking forward to attending again next year! Betsey (the owner of Baskets of Yarn) and her staff did a wonderful job planning and executing the retreat. Can I talk any of my loyal readers into coming next year? :-)