Happy Spring! I really do enjoy winter (mainly because my very favorite wardrobe items are boots and sweaters) but hey, how can anyone NOT be looking forward to spring by the time March 21 rolls around? Heck, even my husband, who practically lives for downhill skiing, is ready for spring.
For me, it's not just about the return of warm weather . I like what spring represents: new beginnings, new life, a time to start over. I've often thought it would make a lot more logical if New Year's Day were tied to the beginning of spring; failing that, wouldn't it make a certain amount of sense to make new year's resolutions around this time of year rather than in the dead of winter?
What better way to celebrate spring than with a new baby? Good friends of ours are expecting at the beginning of June, and I've been working for the last few days on a baby blanket for the new arrival.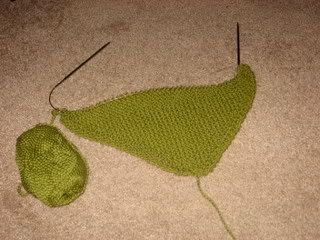 I took this picture a couple of days ago; the blanket has grown quite a bit since then! (For perspective, that a 24" size 6 needle that it's on.) It's the simplest pattern ever -- just a corner-to-corner garter stitch blanket with an eyelet trim -- but I think that it's a definite example of a case when simplicity equals elegance. In my humble opinion, anyway. :-)

In other knitting news, I finished the body of the colorwork bag:
In this picture, the color contrast sort of hurts my eyes! It's not quite as eye-crossing in real life, but it's plenty bright! It's quite large, too -- I can't wait to see how much it will shrink in the wash. Before I felt, though, I need to knit the i-cord. And I HATE i-cord. I can't tell you why -- it's one of my inexplicable little knitting idiosyncrasies. I think I have two felted bags that are done except for the i-cord handles. (Hi, Mom!) I need to just buck up and do it.
I spent the morning today knitting with Tamara and Nicole, which was quite pleasant and fun -- I hope we can do it again soon. :-) And I'm also thinking about going to the Knitters' Den at the LYS tomorrow night. I'll see how I feel about it after work...