...at least as far as knitting projects are concerned!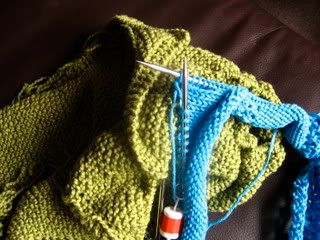 I really was trying very hard to be mongamous with the baby blanket...but I just couldn't take it anymore. Actually, truth be told, my wrists were starting to hurt. It's getting quite heavy, and it's cotton, so there's not much give. Plus the yarn isn't smooth, so it's not, well, smooth to knit. I still have several weeks before the shower, and I'm at the halfway point (I'll start to decrease when I start the next ball of yarn), so I've got plenty of time. I needed something else, though. This fits the bill quite nicely.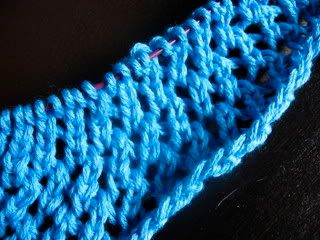 I do think I need to lay a bit low on the knitting for a couple of days, though, in case the wrist pain was from knitting in general, and not just from the blanket. I've been knitting a LOT lately and I'm starting to feel it! I predict a knitting slump/reading resurgence any time now...