I realized after I posted about the retreat that I didn't tell you about the goodies!
First of all, when we checked in, we received a Bagsmith project bag. I LOVE this thing. So many pockets, and I LOVE that it's freestanding, too. This was practically worth the price of admission in and of itself. ;-) We also got these little silk Della Q project pouches. Again, LOVE. In fact, I loved these so much that I bought others in various colors...I'd like to keep them all, but I think they'll be good for swaps and whatnot too.
I think I mentioned in my other post that Baskets of Yarn set up a little mini-shop in their suite. I wish I'd photographed it, but I didn't think of it at the time...I was too busy spending money. ;-)
Not the world's best photograph...but this is the Della Q bag (with cool color-changing iridescent fabric!) that I needed to own, and from right: Colinette Jitterbug in the Castagna colorway (I've been wanting this for some time, but no one local carries it); a skein of purple Berrocco Ultra Alpaca that I got in the yarn swap; a skein of pink Tofutsies, which I cannot WAIT to try out; three balls of Universal Yarns Tango (the yarn from the "yarn tasting" on Saturday night -- it knits up into ruffles); and three random skeins from the yarn swap. I also purchased a bunch of patterns and a kit for a beaded bag that I forgot to photograph.
I just LOVE the color of the Jitterbug. These pictures aren't entirely accurate, but they give you an idea.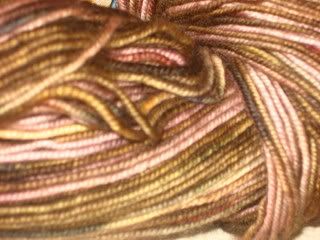 I felted the Noni bag today. It took three cycles, which surprised me -- in the past when I've used Cascade 220, it felted after just one. This was knitted with a double strand, though, so I'm sure that that had something to do with it -- it wasn't nearly as loose as other projects I've made have been pre-felting.
When I make Booga bags, Thomas Pynchon's novel Mason-Dixon is the perfect size to use to block over. For this bag, a box of Barilla rotini encased in a Barnes & Noble bag is just right. (please to excuse the mess on my kitchen table)