A couple of years ago, my friend K and I took a Wilton cake decorating class together. I don't make cakes too often, and to be perfectly honest a lot of the time I simply can't be bothered to go crazy with the decorating (I'd no doubt feel differently if I had a dishwasher and more counter space -- my kitchen doesn't lend itself well to any kind of cooking that requires a lot of steps or a lot of mess). But every now and then I can be convinced to do a cake, and when my nephew asks for one, how could I say no?
Two years ago, when he turned three, T had a Bob the Builder-themed birthday party. It was just after I finished the class, and so I got to show off my new skills in public for the first time.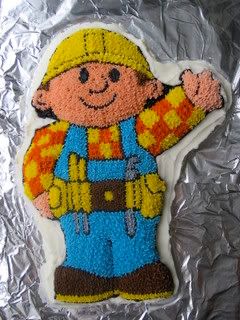 This year, T turned five (and do you know how old that makes me feel?). This year's theme? Well, on Daytona 500 Sunday (although the timing was just a coincidence), what other theme could a boy possibly have?
Yes, it was a Cars party! Lightning McQueen was a little harder to make than Bob the Builder, but I think he turned out okay.
The important thing, of course, is that the birthday boy was thrilled.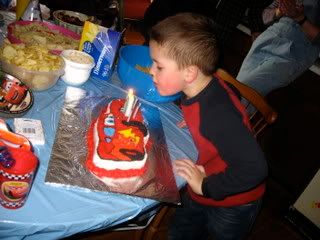 Happy Birthday, T!