I was just going to wait for J to come home to take a picture, but I got tired of waiting. So here's an attempt at an in-the-bathroom-mirror shot. It is, um, not the best picture, and you don't get the full effect of how wide it is at the top (the sweater basically has no shoulders -- it is thisclose to falling off me).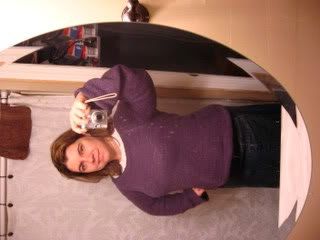 As you can see, I wore Hourglass today, despite my blocking woes. The neckline really is outrageously wide, so I wore it over a t-shirt -- I think that's the only way that this is going to be wearable. You know, it's not what I hoped or planned for, but it's comfortable, a perfect weight (warm without weighing a ton), and I love the color. So I'm happy.
That having been said -- I am currently working on knitting up a square from the leftover Cash Iroha. I plan to experiment with it and see if it's possible that a hot water wash, time in the dryer, or etc. will help return the sweater to its original size.
Despite my blocking issues, I really did like this pattern and I will consider knitting it again (albeit not without first blocking a test swatch! With something like this that is fitted, it definitely does seem necessary). I especially like the hemmed edges -- I didn't think I would, but they weren't nearly as fiddly to finish as I thought they'd be, and I like how they look. However, in hindsight, I'd do a couple of things differently:
- I'd knit at a tighter gauge. Normally instead of switching needle sizes to get gauge, I fiddle with the pattern and try to make the pattern work for my gauge, rather than try to make my gauge work for the pattern. This has always worked well for me in the past, but in this particular instance, whether it's due to the yarn or the pattern or both, I think it would have been better to go the other way.
- I'd modify the yoke. Rather than decreasing on one round and knitting even for one round, I would decrease every round and make the raglans "steeper." I like boatnecks, but this is ridiculous. The neck was too wide even before blocking, though blocking did make it even wider, so I really think a pattern modification would be in order for me -- I don't have particularly broad shoulders.
Okay. Enough obsessing about this project for now -- at least till I finish my swatch-in-hot-water experimentation. ;-) Time to move on to something else!