Back a few weeks ago, I went with a friend to see the Festival of Trees and Traditions at the Wadsworth Atheneum in Hartford. I hadn't been in years, and it was really lovely. They put up trees, wreaths, and other decorations all over the first floor of the museum. The decorations are made by different groups and individuals, and they're all sold for charity.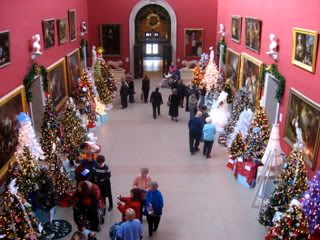 All of the trees were gorgeous. Some were very traditional; others were a little more creative. I could fill blog entry after blog entry with some of my favorites, but I'll just share one that I particularly liked. I love how instead of garland, they ran the train track around the tree. All of the ornaments were either Thomas the Tank Engine-themed, or else color-coordinated. It was adorable.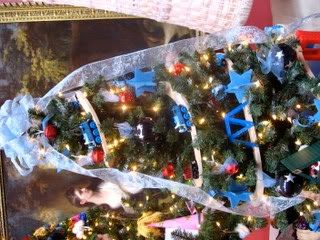 And check this out: I think I've found a solution for my "what to do with all my leftover yarn" dilemma. I LOVED this wreath, and it was definitely an eye-catcher -- while I was standing there admiring it, nearly everyone who walked by commented on it!
The red dot on the label means that it had already been purchased. Too bad -- I seriously would have considered buying it. ;-) But instead, I'll just continue to save my scraps and make my own someday!
I hope everyone had a nice holiday! I certainly did...we had a very pleasant two days full of family and fun and laughter. And, as always, I was spoiled both by my family and my in-laws -- highlights were a cashmere sweater from my mom; a lap quilt my mother-in-law made for me; a copy of Knitting Nature (I had a lot of knitting books on my wishlist, but this one was at the top!); and a beautiful gold origami crane necklace from J. He folds me origami out of paper scraps (napkins or whatever) whenever we go out to eat, and so the necklace means a lot to me because it's one of our little "things," you know? :-)
I only knitted one Christmas gift this year -- a scarf for a longtime good friend of mine. The online community we're both a part of has a "secret snowflake" exchange each year, and this year I was assigned her name. I knitted the scarf from from turquoise-ish Debbie Bliss Alpaca Silk in seed stitch. I loved how it came out -- so soft and squishy and warm -- and I'm glad my friend liked it. :-)
I admit that I am feeling a little bit of guilt about having not done more Christmas knitting. I just don't deal well with the pressure of all those gifts at once, though (go ahead, ask me if I've mailed my Christmas cards yet!). So I think my resolution for 2007, as far as gifts go, is to knit more for people's birthdays. (People with summer birthdays might get moved to Christmas, though. I think my goal is one knitted item per recipient per calendar year. :-)) At least birthdays are more spread out, so I don't have to stress quite as much. That having been said, of course, in both of our families, all of the birthdays come in big clumps. But I'll try my hardest. First up: my mother-in-law and my grandmother, both in the first part of February!