There's a joke somewhere about how long it's taking me to knit the Hourglass sweater, but I'm not funny enough to think of what it might be. :-)
Anyway, progress is being made: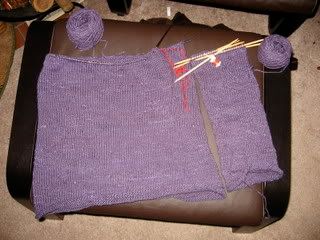 I'm nearly done with the first sleeve. I'll likely finish it tonight and attach it to the body.
Not much else to report, save for a breakthrough at work: we can now print spine labels directly from our integrated library system, based on the call number in an item record. We were typing them on a typewriter (how retro am I?), so this is a major improvement. Whee! (Go ahead, laugh that I can get so excited about spine labels.)