It's been a productive weekend so far at Chez Us. For the first time in, oh gosh, MONTHS, we had NO plans this weekend. Not a one. So we made good use of it. Mentally, I've been in a good place lately for decluttering and reorganizing -- I just haven't had a change to actually act on any of those impulses. But this weekend I got a good jump on it -- I tackled the bookshelves and my craft room.
I've written before about how J and I are both Book People, and how we have an awful lot of books. If you, too, are a Book Person, you will understand just how momentous it is that we were able to do this: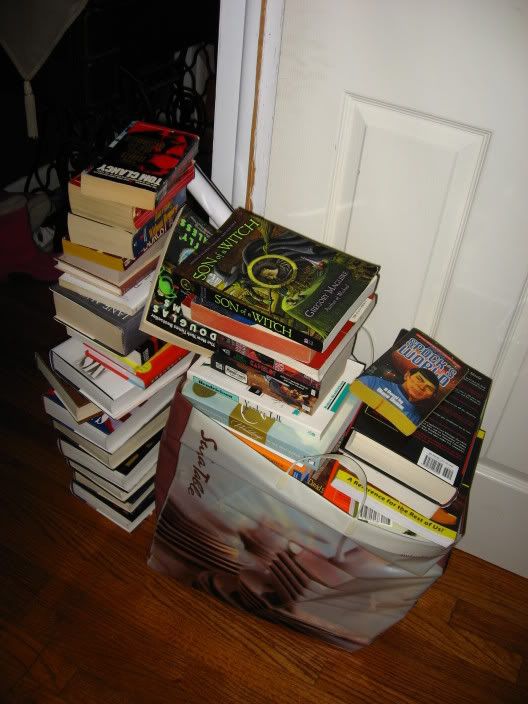 Those, my friends, are the books we weeded from our shelves and will donate to the library book sale. I don't think we have EVER gotten rid of so many books at any one time. There are old textbooks we're finally ready to ditch, and J's Tom Clancy books, wedding planning books that I could have sworn I'd gotten rid of years ago, and various odds and ends that we just don't need or want anymore. It's three or four shelves' worth of books. I cannot even begin to tell you how proud I am that we were able to do this!
And now, on to the craft room. I titled this post "where the magic happens" because in the first episode of this season of Project Runway, when they were showing snippets from the applicants' intro videos, I swear 99% of them showed their designing space and said "this is where the magic happens!" It got old really quick, but I still couldn't resist using it here. ;-)
Anyway. We live in a standard postwar one-story, three-bedroom house. We use one bedroom as a bedroom (duh) and the second as an office/computer room. The third is nominally a guest bedroom, but really it's my craft room with a futon that guests can sleep on. ;-) Unfortunately, a lot of the time it turns into a catch-all room, and for the last couple of months it's been....well, it's been a mess. But yesterday I tackled it, rearranged some furniture and some storage, and now it's all clean and ready to be used once again. We still need to hang things on the walls and I have a little more reorganization I want to do in the space under my desk, but other than that, it's done and just the way I want it!
This first picture is taken from just inside the doorway. It's a smallish room, 10'x12', maybe? The pictures laying on the futon next to Maggie are going to he hung, collage-style, on that small wall space between the bookshelves and the window.
This is the rest of that wall. The cube shelving holds quite a bit of my yarn stash -- more than half, I'd say (the rest of it lives in two rubbermaid bins under the futon). It's not quite as impressive as Jessica's yarn wall, but it still makes me think of a yarn store. ;-) On the left of the picture, you can see the closet.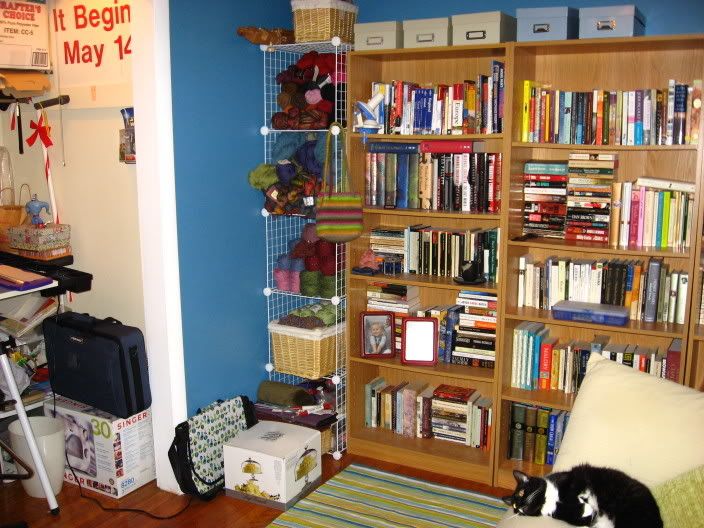 And this is the rest of the closet! The hatch to the attic is in this closet, so it's double-deep. For my birthday a couple of years ago, J bought me a drafting table. It fits perfectly in the closet, and it's such a nice little nook for me to work in -- I absolutely love it. The drawer thingies under the desk hold all of my non-needlework craft supplies: rubber stamping stuff, beads, scissors, glue, you name it. There is a Yaffa block unit on the right side -- eventually that's going to be replaced with something more conducive to paper storage. Right now, things are stacked sort of precariously on it.
And this last picture is the other side of the room. We're going to get a couple of enlargements of pictures from our recent trip to Martha's Vineyard to hang on the wall on the left (which is the one with the window, as you can probably figure out) and on the floor you can just see the corner of a painting that MIL did -- once we get a frame for it, it's going to be hung on the wall above where it's propped now. The little bookcase has all of our photo albums in it.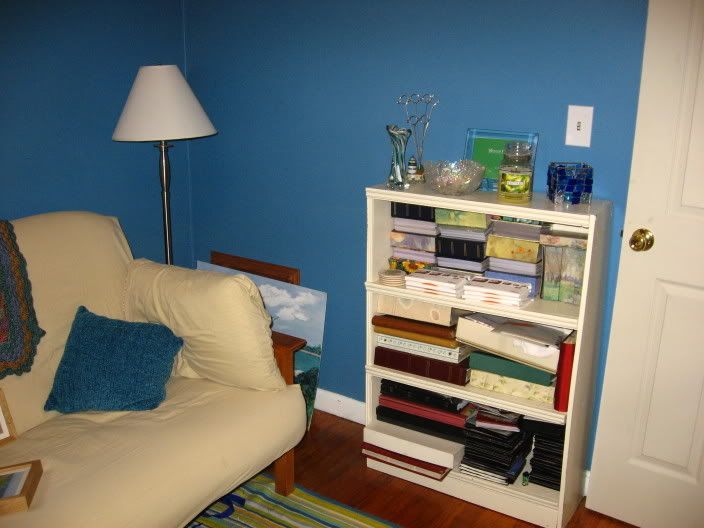 So that's my little space. I've spent a bunch of time today just sitting in here, not doing anything but enjoying it. It's so relaxing. I'll have to share pictures again once we get all of our pictures hung -- they're all going to be pictures we've taken of beaches and lighthouses and other ocean things. :-)
I think we're off to Ikea this afternoon, to look for things for our next big project -- the office! I need a new desk and J needs some sort of a filing cabinet/shelving apparatus. We figure that if we can't find what we need at Ikea, it doesn't exist!