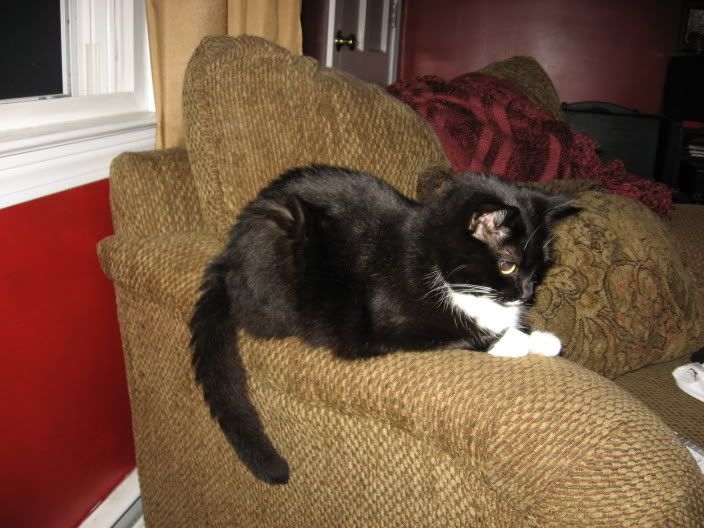 She looks so sweet and innocent, doesn't she? But really, she's far more dangerous than that.
Last night I was lounging around on the couch, working on my sock (to be precise, I had just finished picking up the gusset stitches and was working on my first post-heel round) and watching some Alton Brown. Maggie was parked nearby on the floor. Gandalf wandered through and decided, as is his habit, that he HAD to sit exactly where Maggie was, so he booted her out of her spot. Maggie flipped out, as she usually does when Gandalf exerts his I'm-bigger-than-you influence, and decided to take the over-couch route out of the living room. Unfortunately I was in her way, or maybe she didn't know I was there or something. At any rate, it all happened so fast that I don't really know what exactly transpired, but she used my shoulder as a launching pad, bounced off the back of the couch, and accelerated again off my leg. All I saw was a black blur, but let me tell you, I FELT the whole thing. That cat has razor-sharp claws. I've got a gash on my left shoulder and scratches all down my left leg. I looked like I'd been mauled. Two of the scratches on my leg bled quite a bit, to the point where I actually had to bandage them to keep blood from running down my leg. In the light of day they don't look so bad, but let me tell you, THAT was an experience I don't hope to repeat anytime soon. It's a good thing those two are so cute, that's for sure. (And also a good thing that we're all, human and feline, up-to-date on our shots! ;-))
Luckily the sock was not hurt in the incident. I'm now through the foot decreases, so it's straight knitting now till the toes!